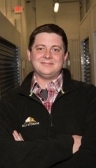 About Us

My name is Nick Lackner, and I'm General Manager of City Center Self Storage, Pittsburgh's newest and most exclusive full-service self storage facility.
City Center Self Storage noticed a problem – a lack of convenient, modern self storage options in Downtown Pittsburgh – and set our sights on solving it. But we didn't do it alone. We got advice and opinions from just about everyone we know and a lot more people we didn't. We talked to prospective customers, we did extensive market research, and we evaluated all of the other options in the area. We listened to what all sorts of Pittsburgher's loved, hated, wanted, and were tired of when it came to self storage, and we took what they had to say to heart.


Ready to rent?
Call us or email us today and we will have your self storage unit ready when you arrive!